Hi @ all,
I asked myself, if i had the power to change cards, which ones would I change an how?
Let me show and explain my changes in in few examples.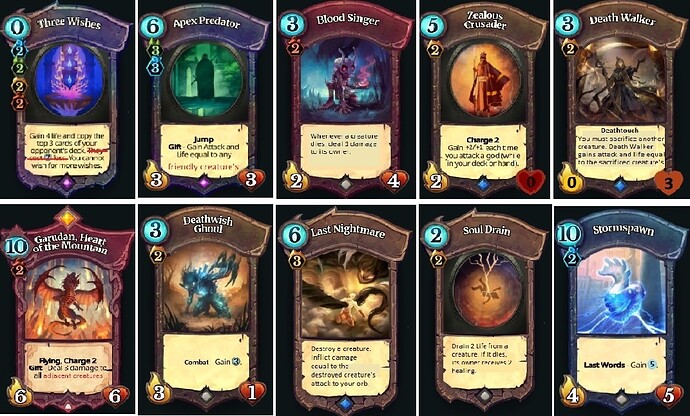 Three Wishes:
(Removed the cost reduction)
As I already mentioned in another thread, I think the cost-reduction is too strong.
Apex Predator:
("Gain Attack and Life equal to any friendly creature's")
Apex Predator has the potential to grow to huge sizes. It shoult be a bit more difficult for the Apex-Player to reach those sizes… To be not able to copy an enemy's creature should help.
Blood Singer:
("Whenever a creature dies, deal 1 damage to its owner")
As with many other cards, I think this one should have some kind of recoil.
Zealos Crusader:
(changed stats to 2/0 and the stats-gain to +2/+1)
It should be easier to deal with this one. Killing a 10/4 is easier than killing a 10/10. This Card should simply lose its "auto-win" mechanism…
Death Walker:
(changed stats to 0/3. Added the text: "Death Walker gains Attack and Life equal to the sacrificed creature's")
Come on guys, a 6/5 with Deathtouch for 3 faeria played offensively is horrible. In my opinion, Deathtouch should be something to be played defensively or as a faeria gatherer that can't be killed without recoil.
Garudan:
("Deals 3 damage to all adjacent enemy creatures")
I think Garudan is simply too strong. If you want to play Garudan you should have to think more about positioning.
(Oh, I made a mistake: It should be "all adjacend enemy creatures".)
Deathwish Ghoul:
(changed "last words" into "combat")
The effect should be changed. A card, paying nearly always for itself is too strong. Giving this one the combat mechanism gives the opponent the possibility to kill it without triggering its effect.
Last Nightmare:
("Destroy a creature. Inflict damage equal to the destroyed creatures Attack to your orb")
This one really needs some kind of recoil!
Soul Drain:
("Drain 2 Life from a creature. If it dies, its owner receives 2 healing")
Recoil added…

Stormspawn:
(reduced the Faeria-gain to "5")
And another card that pays its own costs.
Ok guys, what do you think about these changes? Which cards would you change if you were able to?
(As always: Please pardon my bad english.

)
---
EDIT: The picture is a little to small. I had to combine all Pictures because I am only allowed to upload one Picture…


I added the modified Card Texts to my explanations.