The second Monthly Cup is complete. Take a look at the completed brackets here: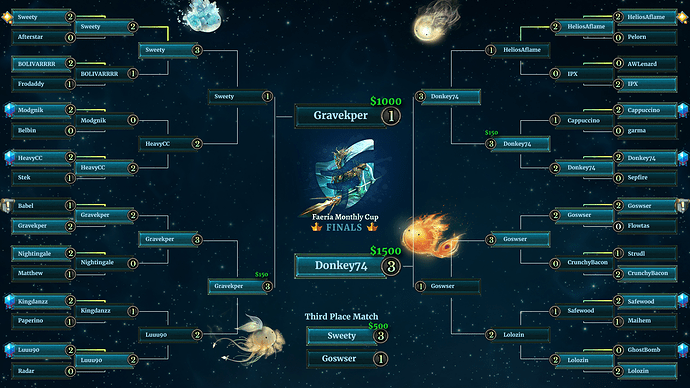 ---
Donkey74 $1500
Gravekper $1000
Sweety $500
This is the first tournament that used the bounty system. Both players who claimed the bounty from the previous champions ended up facing each other in the finals for the grand prize. Sweety, the previous Monthly Cup champion, claimed third place - further establishing his position as one of the best players in the game. We also saw a former Starcraft 2 Pro almost claim third place!
As is the new standard, Donkey74 and Gravekper will be automatically invited to the next cup to defend their bounties.
Missed the live stream, but want to catch some of the matches? Here you go:
https://esports.faeria.com/ has been swapped back over to the normal monthly format, but we're still working on updating our Hall of Fame to cover all subsequent Monthly Cups. Thank you for being patient!
Don't forget to register for the qualifiers of the next Monthly Cup:
Qualifier #1- Saturday August 20th, 6pm CEST
Qualifier #2, Saturday August 27th, 6pm CEST
The next Monthly Cup takes place Saturday, September 10th at 4pm CEST.
Thanks everyone, and good luck!