Hello Faeria Community!
I figured I'd try and share with everyone the journey I plan to take revolving around one of my favorite cards: The Soulbound Sagami.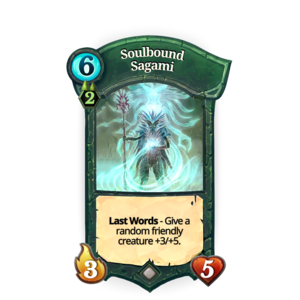 Note: This card was recently patched to be 6 faeria + FF originall announced in the Nov 30 Patch Notes under Balance Changes.
Note: Additional details for the Patch can be found right here on the boards!
The card itself embodies one of my favorite memories from playing MTG: Arcbound Artifact Creatures from the Mirrodin (Darksteel) Block. It was the first style of deck I ever played and was loads of fun to see bouncing from one creature to another. Although artifact lands, "affinity" cost reductions, and card-tokens are not seen yet or in the near future: I give you my attempt at trying to mimic the Arcbound-themed deck into Faeria revolving around the Soulbound Sagami:
SOULBOUND
Mono Green (Big/Sacrifice) Decklist

DECK CONCEPT
The "Soulbound" Deck attempts to capitalize on the following:
Cheap high-health taunt creatures to protect key cards (Bone Collector, Spirit of Rebirth, Feral Kodama) while providing a strong faeria collecting presence.
Multiple sources of board buffing by means of Soulbound Sagami, Eredon, and Ruunin's Guidance, and the means to protect key key cards (Bone Collectors, Wild Avengers, and Feral Kodamas) with Safeguard.
Maintaining a strong enough delay to push to Mid to Late game with Ruunin's Presence (+5 Life) Feed the Forest and in some cases Safeguard to allow Bone Collector and heavy hitters like Wild Avenger and Feral Kodama to carry the victory.
Good balance of action economy with Wood Elemental, Living Willow, and Feed the Forest.
Once at least two wells are contested, the deck can play very aggressively and push to control the board or go in for the kill.
As always thoughts and suggestions are always welcome!
---
Recent update to reflect some of the Theory Crafting Feedback. As with keeping with the Soulbound concept and a heavy amount of creatures both on the field and in hand, I've opted to take advantage of my recent draw of Ruunin. the Relentless with the following changes:
12/20/16: Added Voice of Hunger to capitalize on Elderwood Hermits and Soulbound Sagami in the event of unfavorable trades and to pass a buff early without using Feed the Forest on low-health creatures.
12/20/16: Added Sagami Huntmaster for defensive/offensive tricks.
12/20/16: Replaced Ancient Beastmaster with Spirit of Rebirth.
12/21/16: Replaced Grove Guardian with Wild Avenger (this really made a difference!)
12/22/16: Fairly significant changes, pace was too slow and being able to bounce back against red hate. Dropped Oaklings all together, as Sagami works a lot better.
12/22/16: Needed some larger meat to go with the deck, this time Feral Kodama is in the mix, and with Soulbound trading solid hits and dying, I've had two games where Soulbound landed on Kodama for a 10/12 with slam and jumping.
12/22/16: Swapped out some cards to fit in Wood Elemental. I have not regretted it yet!
12/22/16: Games are running up to half an hour now, but I'm winning. Progress!
12/23/16: Spirit of Rebirth had to go, and some unsavory encounters with Seifer prompted the inclusion of Protection to allow a more favorable trade against buffed Seifers and early trades with Bone Collector/Wild Avenger/Feral Kodama.
12/23/16: Found that although Safeguard can be negated with Falcon Dive/SoulDrain/Seifer's Wrath, I've found that I will typically only use it on the same turn I tend to break the Safeguard for maximum effect. Having a Safeguarded Kodama that has already been buffed by Soulbound can make for a brutal combination.
Seems to be a good balance so far, land/action/faeria economy hasn't been a problem any more thanks to Wood Elemental and stalling tactics with Ruunin's Guidance. Kodama and Wild Avenger make for some solid threats, and Soulbound now compliments them a lot better. Ruunin herself has provided me a saving grace in most games, and although Frogified I typically save her for when I know I can get a death trade and/or when enemy faeria is very low against blue. Check Game Journal for further details!
Keep in mind that only key cards are intended to be sacrificed while others are intended to stay on the board unless the trade is worth while. Key cards being Living willow, Wood Elemental, Eredon, and Soulbound Sagami. In rare instances I'll drop a Wild Avenger, trade, and if I've taken a lot of damage already THEN sacrifice the Avenger (often by late game with 10+ life) for a big swing in Faeria. Key weaknesses to this deck include Mountain Seifer, Lake Control, and 3 Wish decks, as they can often times use these cards to great effect against you!
---
Game Journals:
Games 1-6 (Rank 22 to 21): "Soulbound Awakening"
Games 7-11 (Rank 21 to 20, NEW TIER!): "Silence of the Oakling's Hunger"