So, from what I've seen in this weekends tournament, Annoying Gnat turns out to be a very powerful card, which received both positive and negative feedback. I feel the negative feedback grows, though. However, everyone's biggest concern doesn't seem to be the fact that - without phantasm/frogify - it's an immortal body, nor the fact that you get it for only 2 faeria and 1 desert (which is questionable, though). No, the main problem is the huge amount of rng it adds to the game.
I believe, most Faeria players stated they do not want the game to become more rng, especially not another Hearthstone.
So, long talk, short story. Here's my version of Annoying Gnat: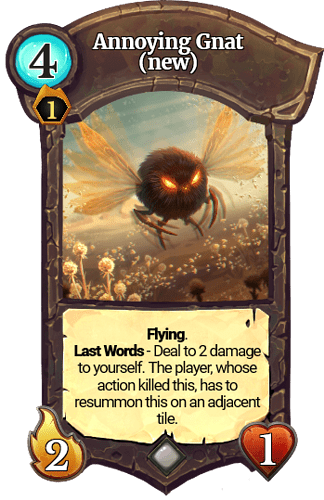 So what changed?
The faeria cost went up to 4. After all, it's an immortal body, which is WAY too strong a collector when being summoned on turn 1 for only 2 faeria. Another option would be to make it 3f 2D, so you can't summon it on turn 1 in any case, not even using your explore card when going second.

More importantly, I removed the rng of the resummoning completely and added a little tactical element: What the text "the play, whose action killed this" wants to tell you (in case it's not clear), is this: The player on whose turn the Gnat died, has to resummon it immediately (multiple times, if necessary). This is mainly to prevent having an opponent's action during your own turn and vice versa. However, it also adds quite a lot of tactics in terms of repositioning. (probably hard to code, though)

I reduced the area it can be resummoned to just adjacent tiles. With the current version, it can be killed by a Deathwalker/Shaytan Assassin sacrifice while it stood next to your orb and (if lucky) be resummoned between 2 faeria wells or on a very defensive land tile of your opponent (-> place a land). I think this scenario is toxic to the game and should be prevented.
[optional: 4) Another idea would be to remove the immortality. Like: Last Words of the resummoned Gnat will only be activated on the original player's next turn]
So, what do you think?