Good morning!
A few players asked me what type of decks I used this season in my climb to godrank.
From rank 10 → 3 I used "Red Collector". A red-controll deck with three Bone Collectors, a couple of Syland Horsemasters and Seifer. Note that I didnt run Flame Burst, I felt like it wasnt really strong enough in the current meta. I always kept firebomb in starthand because 70% of the time my opponents open with Luduan (blue) or Dune Drake (yellow). The Lord of Terrors were sometimes hard to get value from, but when you do (with help from horsemaster) it feels amazing.
The Monogreen deck was used from Rank 3 → God. I had very few losses with it but I was pretty lucky with draws/matchups. Just build towards one side (same as your opponent if you are player2) and drop big creatures and win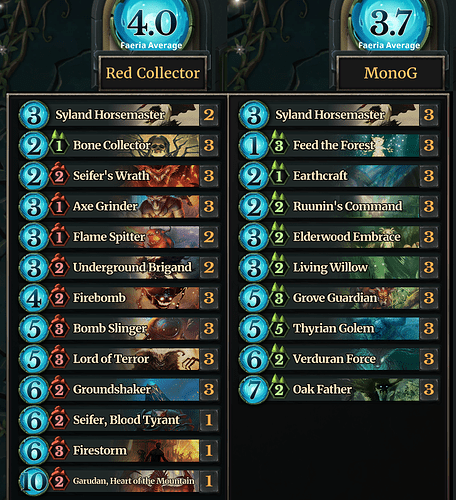 Good luck!