Hello everyone,
We already have pandora tierlists from It'sCappuccino and from Stek.
Today, some Silversword asked on discord, whether we had a tierlist for constructed yet, to which there was no real answer, so I guess - no.
So I thought, I'd just make some quick changes to the Excel-spreadsheet I recently shared and which's actual purpose is 1) to help you with the decisions which cards to reroll and 2) to give a statistical overview for your personal collection.
With the new version, you'll also get a tierlist, where all cards are sorted by the ranks you've given them (or the ranks I entered as default). Should you wish to change the ratings of some cards, you just need to enter your own ratings (from S (best) to A, B, C, D, E (worst)) to each card and reposition the tierlist by updating (just two clicks needed; just follow the document's instructions).
If you don't have Microsoft Office/Excel or another program to open .xlsx-files, you should be able to open it via drag & drop on this website. Note, that calculations may come with some delay, if you use the browser version.
Here's a sample (!) picture, of what it looks like: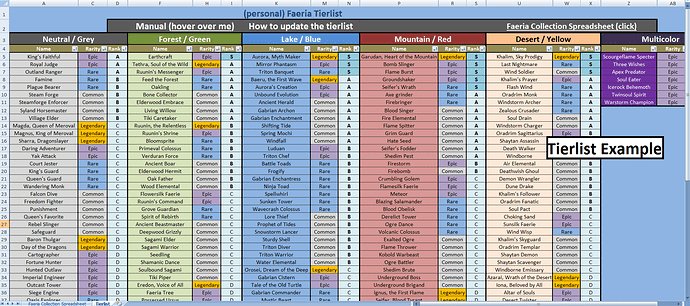 (the ratings displayed are just the default ratings of what I think is worth keeping vs rerolling; so please don't argue too much about these values right now. It's just an example!)
P.S.: In case you already used the former version of the spreadsheet, you can just copy and paste the light blue columns to the new version, with one little exception: The order of the cards "Windfall", "Orosei", "Stormspawn" have been swapped to match with the ingame's collection order; so make sure you don't confuse their values.
---